Bend precipitation can be confounding at times, with unusual weather events occurring in unexpected seasons. The bottom line is to be prepared for sudden sprinkles, sudden winds, sudden snow and hail. It's not unheard of to see snow or hail flying in June, we are a high desert city after all, and we do site right in the edge of the mountains. Always check the weather before you head out, and when in doubt bring layers.
Here's what to expect for Bend Oregon Precipitation:
Bend Oregon Precipitation Graph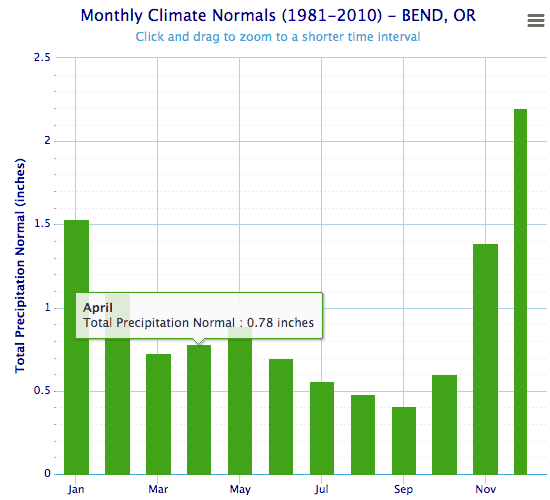 Bend Oregon Precipitation Chart
The following chart shows monthly average precipitation data for Bend Oregon. This data shows the averages since NOAA and the National Weather Service began collecting this information.
| | |
| --- | --- |
| January | 1.53″ precipitation |
| February | 1.09″ precipitation |
| March | 0.73″ precipitation |
| April | 0.78″ precipitation |
| May | 0.89″ precipitation |
| June | 0.70″ precipitation |
| July | 0.56″ precipitation |
| August | 0.48″ precipitation |
| September | 0.41″ precipitation |
| October | 0.60″ precipitation |
| November | 1.39″ precipitation |
| December | 2.20″ precipitation |
Source: National Weather Service