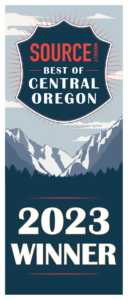 Winning the Best Realtor in Bend and Central Oregon in 2022 was a tremendous honor for me. Winning it again in 2023 is even more special, confirming my hard work is valued and recognized.
Winning Best Realtor is an Honor
Thank you to my many clients, you made this happen. I was grateful before receiving this award, and I'm further reminded how thoughtful, generous, and supportive you have all been. Thank you for bestowing this honor upon me, and allowing me to help you to buy house in Bend, sell houses in Bend, and to allow me to be a part of your real estate journey. I enjoy the entire process of getting to know you, understanding your housing requirements, and finding the right home for you or the right buyer. for your home far more than you know.
A Different Real Estate Experience
There are many skilled realtors in Bend and Central Oregon, and I've worked on one side of the transaction with may of them. I originally got started in this business after a few experiences as a buyer and seller that lacked kindness, patience, and diligence. I decided I would venture into real estate and putt every bit of my energy into it, but I'd do it my way – I'd work hard and do my homework, I'd get to know my clients, I'd represent them like I want to be represented, and I'd find the joy and humor in the whole home buying and home selling process. And this award is validation of 17+ years of all that hard work.
Why Work with Me
First and foremost, I love my job. I take that enthusiasm for Bend real estate, and I listen to what matters to you – what's on your list of property needs and wants, and then I develop a strategy to get you there. I used the latest and greatest tools to stay ahead of the competition, I communicate well, I watch the market each and every day without exception, and I leverage my large network of buyers, sellers, and brokers to find the right property. And because I'm a principal broker with more than 17 years of experience, my deals convert into transactions at a very high rate.
Reach out and let me help you with your next real estate purchase or sale.